Our friend and past EPC President Joe DeLorenzo passed away this week. Following is an article written
by The Produce News.
Produce retail veteran Joe DeLorenzo dies at 64

As was printed in the November 14th edition of Produce News, Joe DeLorenzo, who spent his entire professional career in the field of produce retailing, died Wednesday, Nov. 12, of cancer. He was most recently director of produce merchandising and operations at Alpha 1 Marketing, which is the merchandising arm of Krasdale Foods, in White Plains, NY. He was 64 years old and a resident of Clifton, NJ.
EPC Holds its First Meeting of the Season - 9/16/14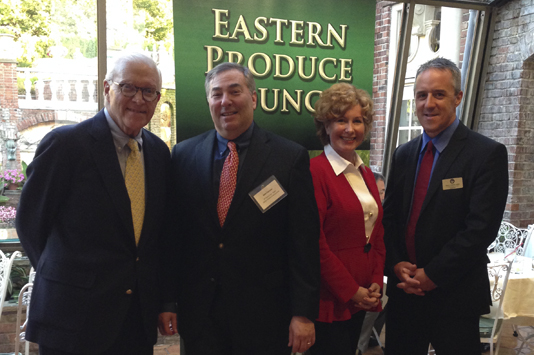 The Idaho Potato Commission's Seth Pemsler, and Lucky's Real Tomatoes' Lucky Lee, join EPC Executive Director, John McAleavey, and President, Paul Kneeland, at The Manor in West Orange, New Jersey. Along with Bejo Seeds, they sponsored the Council's September 16th dinner/meeting.
Learn about news, updates, and changes as they happen. Stay informed with us through our monthly newsletters!

click here to view a copy of our most recent edition.
EPC Awards Scholarship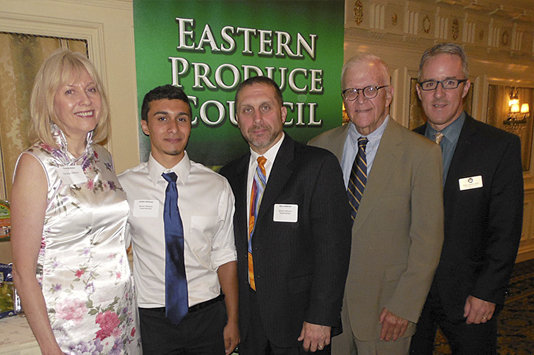 Penn State University sophomore, Jordan Goldman, is the winner of the first James and Theresa Nolan Family Foundation Scholarship Fund Award, sponsored by the Eastern Produce Council. Pictured from left to right are: Theresa Nolan, Jordan Goldman, Marc Goldman (Morton Williams Supermarkets), John McAleavey, and Paul Kneeland.