5th Annual EPC/Nolan Family Foundation Scholarship
Awarded to Giovanni D'Amato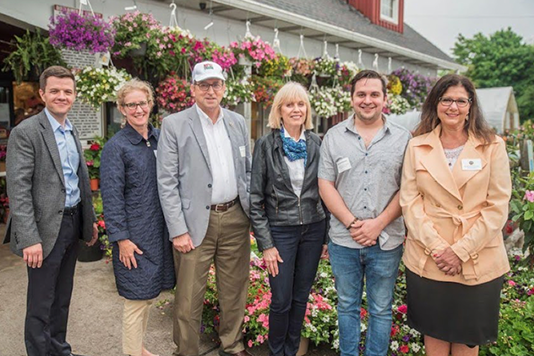 Pictured L to R are: Tom Beaver, NJDA's Director of Marketing, Susan McAleavey Sarlund, EPC Executive Director, Douglas H. Fisher, New Jersey Secretary of Agriculture, Theresa Nolan, Scholarship Recipient Giovanni D'Amato (son of EPC member Michael D'Amato), and Marianne Santo, EPC President.
The 5th Annual Nolan Family Foundation Scholarship was awarded on Tuesday, May 22nd at the EPC's New Jersey Department of Agriculture's 9th Annual BBQ at Demarest Farm in Hillsdale, NJ. Theresa Nolan was in attendance to present this year's $5,000 scholarship to Giovanni D'Amato, son of Michael D'Amato of Natalie's Orchid Island Juice Company. Giovanni is a student at Full Sail University in Winter Park, FL.
What makes this scholarship unique is that it is based solely on a 500-word essay on ethics. In particular, applicants need to site an example of how they faced an ethical challenge in their life and dealt with it. Anonymous essays are judged by representatives of the Nolan Foundation, not the Eastern Produce Council. Congratulations Giovanni!
New Jersey Hosts EPC's 9th Annual BBQ on May 22nd at Demarest Farm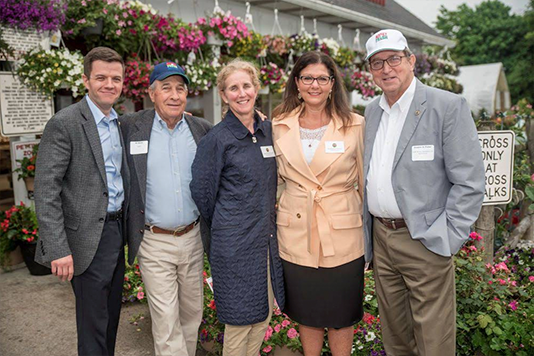 For the 31st consecutive year, the New Jersey Department of Agriculture hosted the EPC's May meeting. Pictured from left to right are: Tom Beaver, NJDA Director of Marketing, Art Brown, Former NJ Secretary of Agriculture, Susan McAleavey Sarlund, EPC Executive Director, Marianne Santo, EPC President, and
Douglas H. Fisher, NJ Secretary of Agriculture.
South Carolina hosts
EPC's April 24th Meeting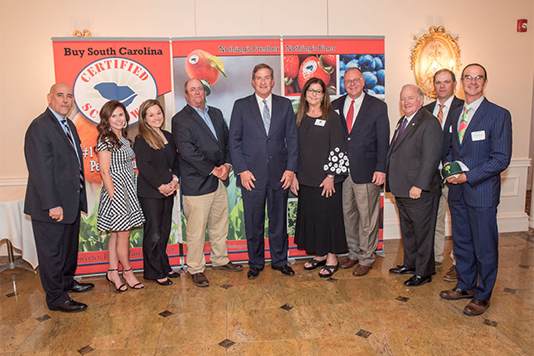 For the 47th consecutive year, The South Carolina Department of Agriculture hosted the EPC's April meeting.
Pictured left to right are: Vic Savanello, outgoing EPC President, Ashley Forrest of Dixie Belle Peaches, Kori Davis of Jerrold A. Watson & Sons LLC, Stevie Still of Delk Produce, Hugh Weathers, South Carolina Commissioner of Agriculture, Marianne Santo, incoming EPC President, Martin Eubanks, SC Assistant Commissioner of Agriculture, Jack Shuler, Chad Truesdale and Gilbert Miller, all of SCDA.
Congratulations to our
2018 EPC Leadership Class!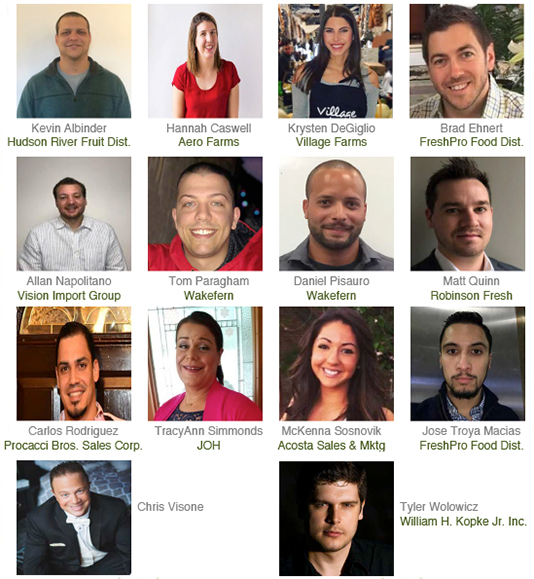 The Eastern Produce Council is proud to announce this year's Leadership Class, the first one of its kind for the council.
The Leadership Program is a professional development experience for Produce Professionals who have less than 10 years of experience in the industry. The goal is to provide the group with an opportunity to gain valuable knowledge from both classroom and field experience.
We were thrilled to have such a great response to our program and selected 14 applicants for this year's Class. Congratulations to the group!
EPC's Dinner Meeting hosted by the Nunes Company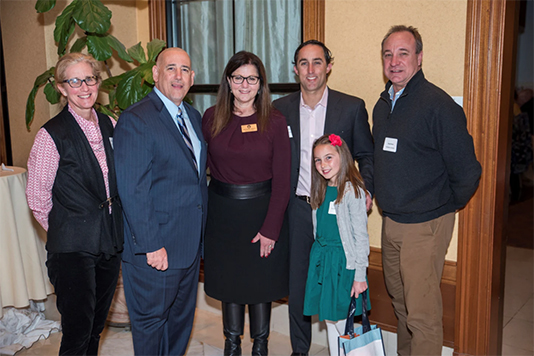 Pictured from L to R are: Susan McAleavey Sarlund, EPC Executive Director, Vic Savanello, EPC President, Marianne Santo, EPC First Vice President, Tommy Nunes, Kate Nunes and Doug Classen
On Tuesday, March 6th, western grower, The Nunes Company, hosted the Eastern Produce Council's Dinner Meeting at Il Villaggio in Carlstadt, NJ. Representing the Nunes family was Tommy Nunes-Vice-President of Operations who also sits on the Executive Board of The Nunes Company, Inc. He is a 4th generation farmer and has served on various boards including The Grower-Shipper Association of Central California and Western Growers Board of Directors. Also joining Tommy were Doug Classen-Vice President of Sales, and Tommy's 10 year old daughter, Kate.
Tommy gave the group a general update on the western veg. category and issues his company and others deal with on a regular basis. Tommy took questions from those in attendance which sparked an interesting conversation that touched on conventional versus organic produce, water supply, workforce housing and wages, and the controversial new crop, cannabis.
Tom Nunes Sr. planted the family's first seeds in California's Salinas Valley in the early 1930s. The Foxy brand was born when second-generation brothers Bob and Tom Nunes formed the Nunes Company, Inc. in 1976. Foxy-brand produce is now grown on more than 20,000 crop acres. Third and fourth generation Nunes family members are at the helm today, ensuring that a tradition in innovation and pride in stewardship of the land is carried out at every level of the business.
Former EPC Executive Board Member, Sal Zacchia, Honored
EPC members, their families, and the Zacchia family attended the Seton Hall Men's Basketball Game on February 18th , at the Prudential Center, where we honored our former Executive Board Member, Sal Zacchia, who passed away last March. In addition to serving on our Board, Sal was the Vice President of the SHU Athletic Boosters for many years. Together with the Zacchia family, members of the Executive Board attended the Booster's Annual Dinner, following the game, where we made a donation to SHU in Sal's memory.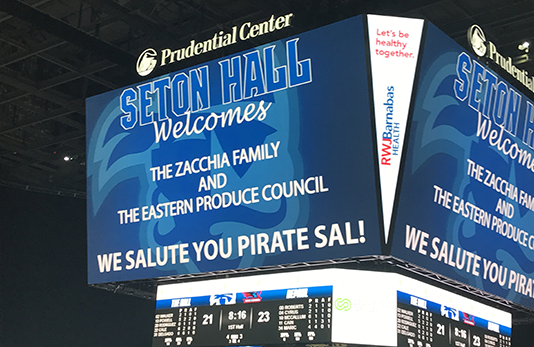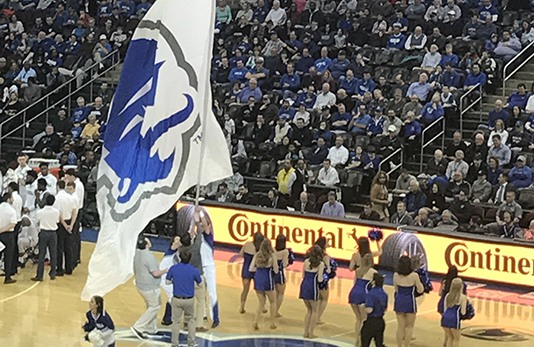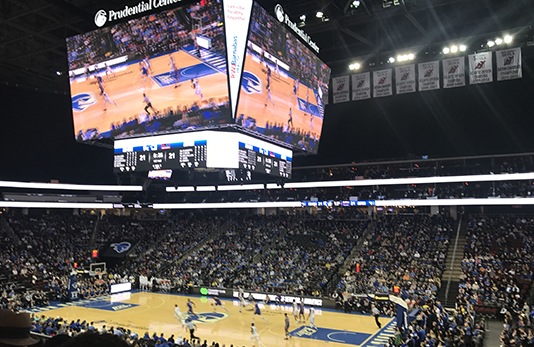 Avocados from Mexico and Idaho Potato Commission hosted an awesome tailgate themed event overlooking the field at The Toyota Lounge at MetLife Stadium. The event featured guest speaker, and former New York Giants linebacker, Carl Banks!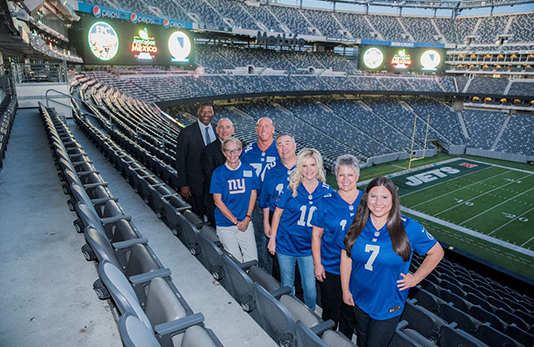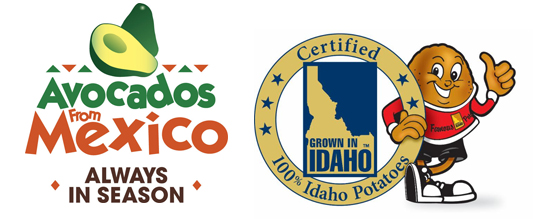 3rd Annual Joe DeLorenzo Family Apple Picking filled with Family Fun!
Thanks to EPC Members and their families along with the DeLorenzo family who attended the 3rd Annual Joe DeLorenzo Apple Picking Event this past Saturday at Melick's Family Farm in Oldwick, NJ.
Cider, donuts, hay rides, apple picking, hot dogs, grilled corn on the cob & popcorn fresh from the farm were enjoyed by all!
The event is named in honor of long standing member and former EPC President, Joe DeLorenzo, who passed away in November of 2014. It is a great way to remember Joe and for EPC families to spend quality time together.
Pictured below are New Jersey state Senator Christopher (Kip) Bateman (R-District 16) and EPC President Vic Savanello of Allegiance Retail Services and Joe's wife Goldie along with the extended DeLorenzo Family.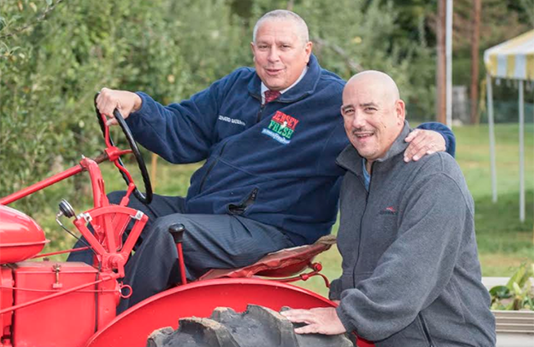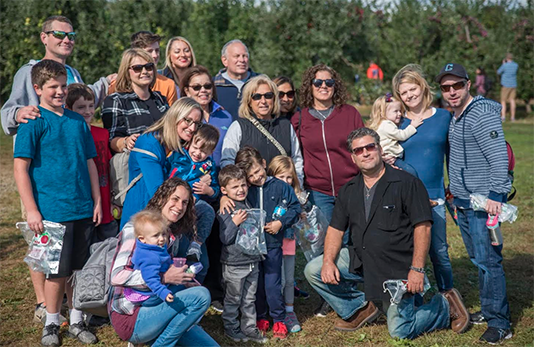 Stemilt Growers Hosts Meeting
at Stony Hill Inn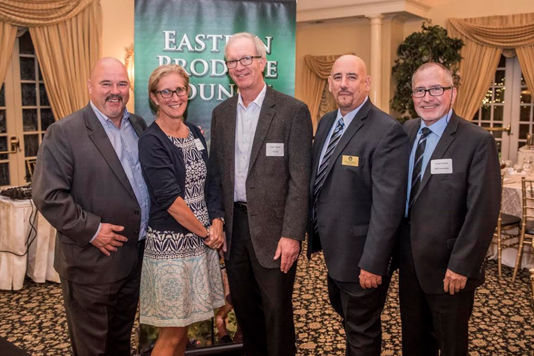 On Tuesday, September 19th, Stemilt Growers hosted a Dinner/Meeting for the EPC membership at Stony Hill Inn in Hackensack, NJ.
Pictured from L to R are: Tim Harrington, Sales Manager, Stemilt Growers, Susan McAleavey Sarlund, EPC Executive Director, Roger Pepperl, Marketing Director at Stemilt, Vic Savanello, EPC President, and George Moskal, EPC 2nd Vice President.