New Jersey Department of Agriculture Hosts EPC's Annual BBQ at Demarest Farm
For the 30th consecutive year, the New Jersey Department of Agriculture hosted the EPC's May meeting. Pictured from left to right are: Tom Beaver, Director, Division of Marketing and Development-NJDA, John Bansher, President, NJ Vegetable Growers Association, Dr. Lewis DiEugenio, representing the NJ Peach Council, Francisco Allende, Owner, Jersey Fruit, Doug Fisher, NJ Secretary of Agriculture, Marianne Santo, EPC Vice President, Vic Savanello, EPC President and Susan McAleavey Sarlund, EPC Executive Director.
South Carolina hosts
EPC's April 25th Meeting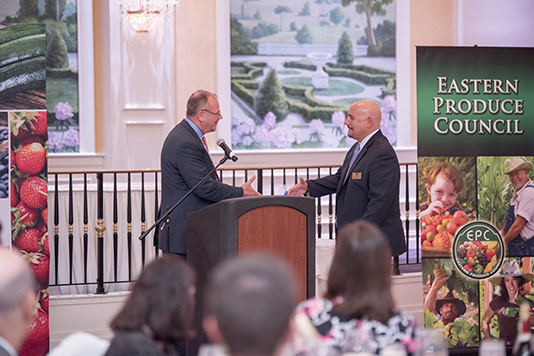 For the 46th consecutive year, The South Carolina Department of Agriculture hosted the EPC's April meeting. Pictured are Martin Eubanks, Assistant Commissioner of Agriculture and Vic Savanello, EPC President.
Thank you to all who attended or supported our 51st Annual
John J. McAleavey Dinner Dance!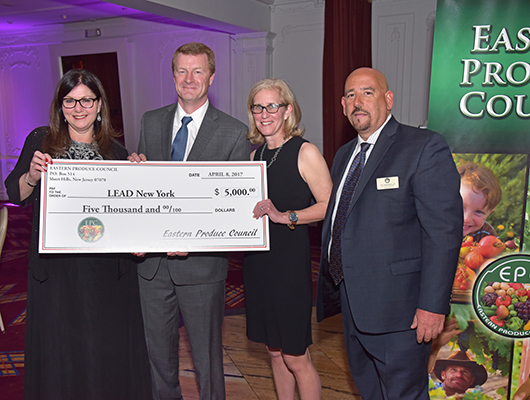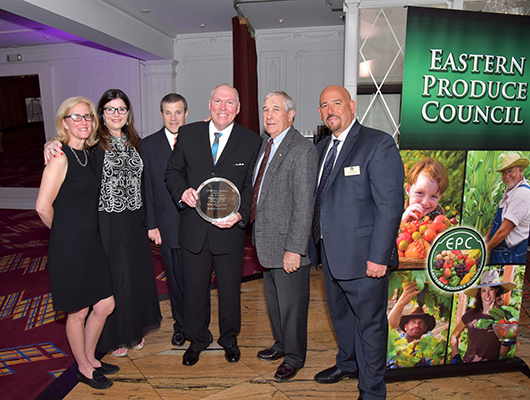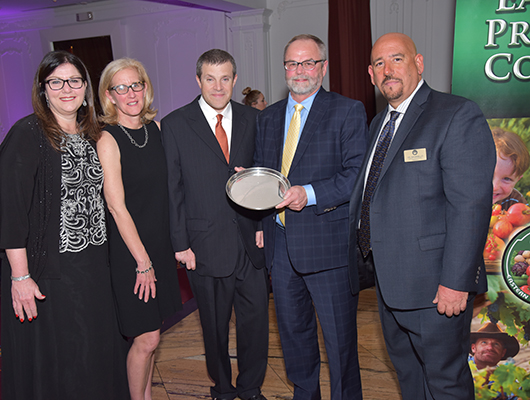 2017 EPC Memberships
For 2017, we will be offering both Individual and Corporate Memberships, along with Corporate Packages. These memberships/packages allow admission to all 9 EPC events throughout the year, a reduced rate at the New York Produce Show, and participation in our annual Scholarship Program.
Click Here to Register for 2017 Memberships
2017 EPC Membership Application (PDF)
Any questions, please contact the
EPC office at 908-723-0645.
What's Happening at EPC: December 2016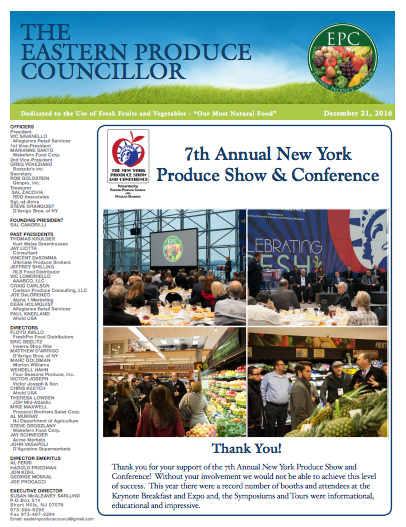 Click here for our December newsletter, which provides a recap from this year's NY Produce Show and highlights our 2017 schedule of events!
Additionally, in January we will be emailing information about NEW 2017 membership options.
2nd Annual Joe DeLorenzo Family Apple Picking filled with Family Fun!
Thanks to EPC Members and their families along with the DeLorenzo family who attended the 2nd Annual Joe DeLorenzo Apple Picking Event this past Saturday at Melick's Family Farm in Oldwick, NJ.
Cider, donuts, hay rides, apple picking, hot dogs, grilled corn on the cob & popcorn fresh from the farm were enjoyed by all!
The event is named in honor of long standing member and former EPC President, Joe DeLorenzo, who passed away in November of 2014. It is a great way to remember Joe and for EPC families to spend quality time together.
Pictured below is Joe's wife Goldie along with the extended DeLorenzo Family.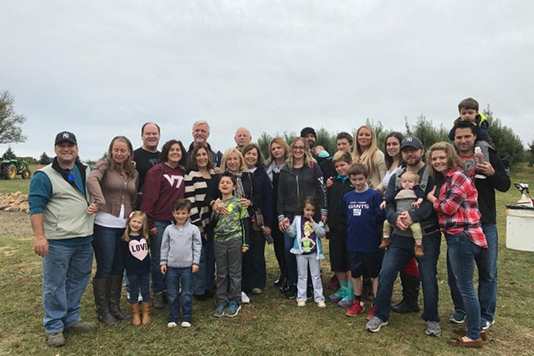 Thanks to our sponsors Avocados from Mexico and Idaho Potato Commission for "kicking off" our new season of events on Tuesday, September 13th with a tailgate party and special guest speaker, former New York Jet, Joe Klecko.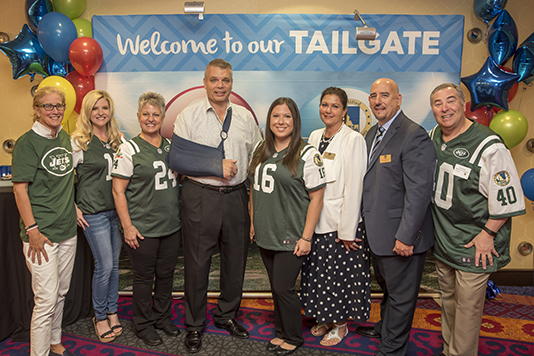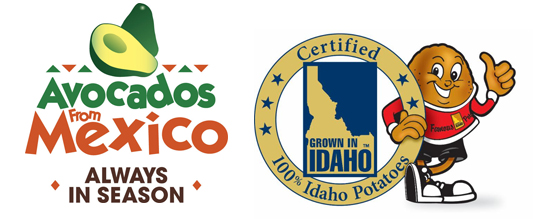 EPC Nolan Family Foundation Scholarship Awarded to Christine Knospe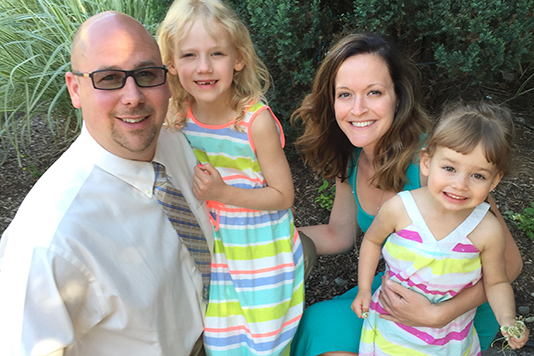 The 3rd Annual Nolan Family Foundation Scholarship was awarded on Tuesday, May 24th at the New Jersey Department of Agriculture Annual BBQ at Demarest Farm. Theresa Nolan was in attendance to present this year's $5,000 scholarship to Christine Knospe, wife of Scott Knospe of Wakefern Food Corp. Christine is currently enrolled at Montclair State University pursuing a degree in Speech Communications. The Knospe family, including their two daughters Izzy and Collette, were at the BBQ to receive the scholarship.
What makes this scholarship unique is that it is based solely on a 500-word essay on ethics. In particular, applicants need to site an example of how they faced an ethical challenge in their life and dealt with it. Anonymous essays are judged by representatives of the Nolan Foundation, not the Eastern Produce Council. Congratulations Christine!
New Jersey Department of Agriculture hosts annual BBQ at Demarest Farm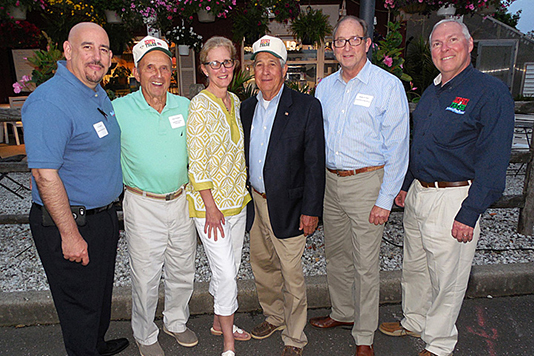 Picture L to R are: Vic Savanello, NJ Farmer John Formisano, Susan McAleavey Sarlund, Former NJ Secretary of Agriculture Art Brown, current NJ Secretary of Agriculture Doug Fisher and NJ Assistant Secretary of Agriculture Al Murray.
This marked the 29th consecutive year that the NJDA hosted an EPC meeting and the seventh annual BBQ at Demarest Farm in Hillsdale, NJ. With close to 200 in attendance including NJ growers and NJDA staff, it was a great night to wrap up our meeting season until September. Click here for more details & photos from this eventful night!
EPC Donates Salad Bars
As part of the council's annual charitable donations, this year the EPC donated Salad Bars to two New Jersey Schools.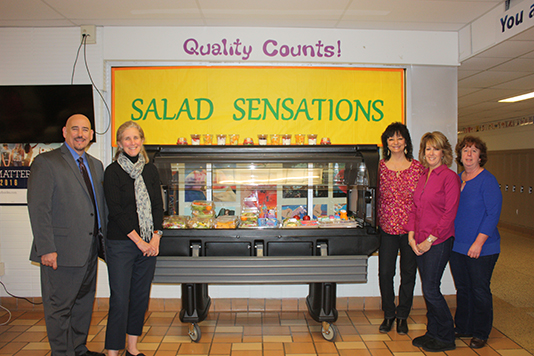 Pictured above on Friday, April 29th at Wall Township High School are Vic Savanello, Susan McAleavey Sarlund and representatives from the Wall Board of Education.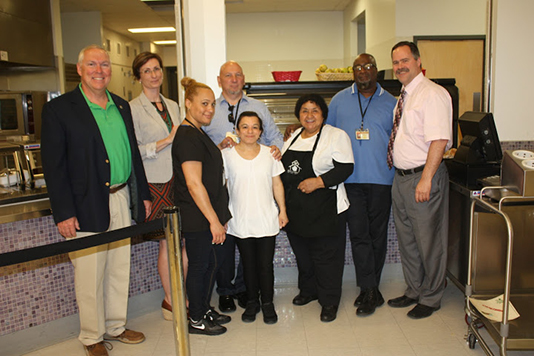 Pictured above on June 2nd at Paterson International High School are Al Murray, NJ Assistant Secretary of Agriculture, representatives from Paterson's Board of Education and staff of the school's cafeteria.