Eastern Produce Council Hosts
46th Annual Golf Outing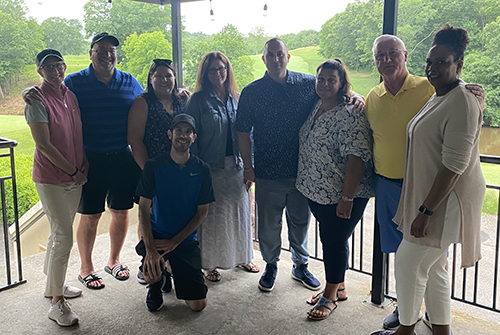 It was a great day on the links for the Eastern Produce Council who hosted its 46th Annual Sal Zacchia, Phil LaRocca and Pete Piastra Memorial Golf Outing at Fox Hollow Golf Club in Branchburg, NJ on Saturday, June12th.
The winning team, with a score of 53, was Four Seasons' Pat Powers, Wes Jones, Pat Campellone, and Jake Barwell. The second place team, with a score of 60 was Brendan Burns and Doug Johnson of Bolthouse Farms and Matt Bernat of Curation Foods.
The Longest Drive winners were Wes Jones and Dylan Dembeck and the Closest to the Pin winners were Samer Rahman, Tony Abbatemarco, Ira Greenstein, and Derek Bender. James Sears and Tony Abbatemarco split the Putting Contest Prize.
Following golf, participants enjoyed lunch and cocktails, a 50/50 raffle, Prize Raffle, and Grand Prize Drawing for a new set of Golf clubs and Bag.
EPC Executive Director, Susan McAleavey Sarlund, thanked the attendees, the Golf Committee (Alexa Conciatori, Kelly Davis, Anthony Latona, Rich Martin, Jim Mulcahy, Al Murray, Gary Roselli, Marianne Santo, and Tracy Simmonds), and all sponsors including Gold Sponsors Dole and Giorgio, and Bronze Sponsors A&J Produce, American Blueberries, Fruitco, Hapco Farms, Lancaster Foods, and Robinson Fresh.
Next on the calendar for the Eastern Produce Council is the Idaho Potato Commission and Litehouse Foods sponsored Tailgate at MetLife Stadium on Tuesday, September 21st. The Guest Speaker will be Harry Carson, NFL Hall of Famer and former New York Giant.
NJDA Hosts Annual BBQ at Demarest Farm
EPC/Nolan Family Foundation Scholarship Awarded
The New Jersey Department of Agriculture hosted the EPC's Annual BBQ at Demarest Farm in Hillsdale, NJ, on Tuesday, May 25th. It was a beautiful spring night for NJDA staff, New Jersey farmers, and EPC members to gather again at the farm; everyone was thrilled to be together again!
Doug Fisher, New Jersey's Secretary of Agriculture, was the moderator for the state's presentation which included comments from John Banscher of the NJ Vegetable Growers Assn., Annie Pape of Frank Donio Inc. and the NJ Blueberry Council, and Lew DeEugenio of the NJ Peach Council.
Following the Crop updates, EPC's Executive Director. Susan McAleavey Sarlund, announced the EPC's Slate of Officers for 2021/2022. Susan thanked Floyd Avillo and John Vasapoli who were stepping down after years of service to the council and welcomed new Officers Rich Martin and Anthony Latona.
On behalf of the Nolan Family Foundation and Theresa Nolan, Susan announced the winner of this year's $5,000 Annual EPC/Nolan Family Foundation Scholarship to Andi Summer Eklund, daughter of EPC member and USDA State Statistician, Bruce Eklund. Andi will be attending University of Pittsburgh this fall. This marks the 7th year the EPC offered the scholarship together with Theresa and her Family Foundation and what makes this scholarship unique is that it is based solely on the essay that applicants write about an ethical situation they were faced with and how they responded. All essays are reviewed by the Nolan Family Foundation, not the Eastern Produce Council.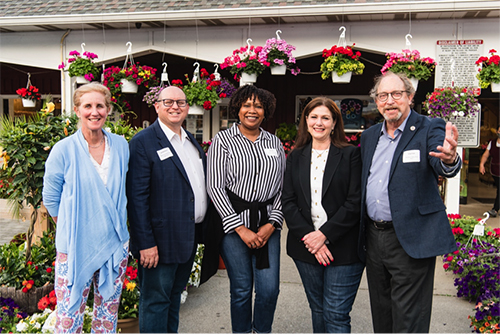 Pictured from left to right are: Susan McAleavey Sarlund, EPC Executive Director, Joe Atchison III, Director of NJDA Division of Marketing and Development, Kelly Davis, EPC Vice President and Director of Produce and Floral at Allegiance Retail Services, Marianne Santo, EPC President and Senior Category Manager Produce and Floral at Wakefern Food Corp., and Doug Fisher, New Jersey Secretary of Agriculture.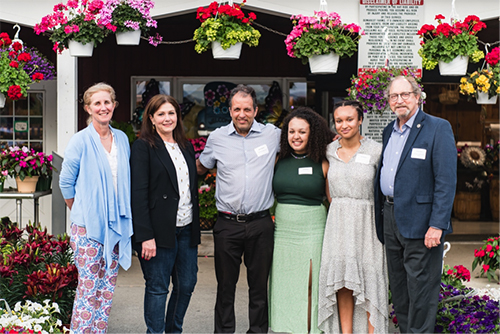 Pictured from left to right are: Susan McAleavey Sarlund, Marianne Santo, Bruce Eklund, Andi Summer Eklund, Josie Eklund, and Doug Fischer.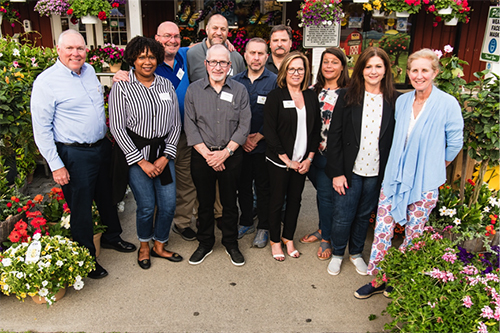 Pictured from left to right are: EPC Board Members Al Murray, Kelly Davis, Rich Martin, Steve Oroszlany, George Moskal, Marc Goldman, Dan Schneider, Theresa Lowden, Tracy Simmonds, Marianne Santo, and Susan McAleavey Sarlund.
EPC Leadership Class Tours Philadelphia Market and
Port Facilities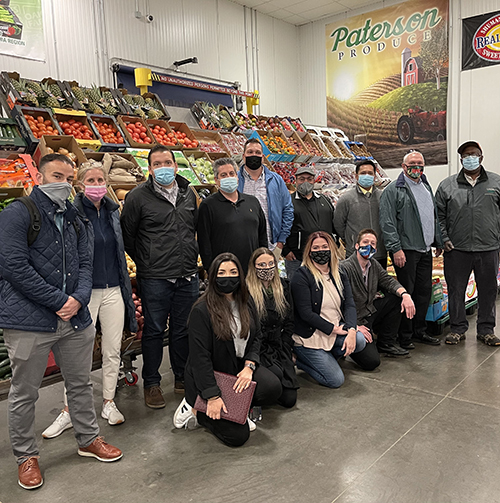 The third Eastern Produce Council (EPC) Leadership Class experienced key aspects of the produce logistics and distribution system with a tour of the Philadelphia Wholesale Produce Market (PWPM) and Holt Logistics on May 11, 2021. The group started the day at PWPM with a presentation on the market's history, evolution and current technology from John Vena of John Vena Inc., a former member of the PWPM Board of Directors and current "unofficial historian." Vena explained how the PWPM traces its roots back to the days of William Penn and noted the current modern facility will celebrate its 10th anniversary this June. Participants had the opportunity to walk the fully enclosed and refrigerated concourse and meet with various market merchants. In the afternoon, the class traveled to the Gloucester Marine Terminal in Gloucester City, NJ, where they were treated to lunch and a presentation on the Philadelphia port facilities by Leo Holt, President of Holt Logistics Corp, and Sander "Sandy" Daniel, senior Tropical Marketing Manager. Daniel escorted the participants on a visit to some areas of the Gloucester City port including a tour of the DelMonte facility given by John McCann, Vice President Northeast Region for Del Monte Fresh Produce.
South Carolina Department of Agriculture
Hosts April Meeting
On Tuesday, April 27th, the Eastern Produce Council hosted its first event of 2021 with the South Carolina Department of Agriculture on a beautiful spring night at TopGolf in Edison, NJ. This marked the Department's 49th year sponsoring an EPC Dinner, and it is sure to be remembered!
South Carolina Commissioner of Agriculture, Hugh Weathers, members of his staff, and representatives from the SC Peach, Watermelon and Specialty Crop councils addressed the council and mingled with the group throughout the night. "People were happy to be out, together with their colleagues from the produce industry. It was a fun event and showed us that people are ready to socialize again; it was great to see," said Susan McAleavey Sarlund, Executive Director of the EPC.
Click here to read the complete article.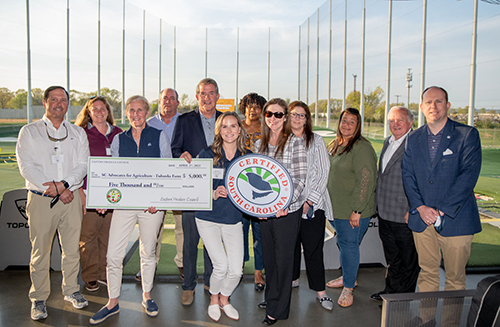 Pictured above L to R: Chris Yonce, SC Peach Council President, Weatherly Thomas of SC Specialty Crop Growers Assoc., Susan McAleavey, EPC Executive Director, Stevie Stills of SC Watermelon Assoc., Hugh Weathers, SC Commissioner of Agriculture, Katie Pfeiffer, SCDA Mkt. Dev. Coordinator, Kelly Davis of Allegiance Retail Svcs and EPC VP, Michelle Cantey of SCDA, Marianne Santo of Wakefern Food Corp and EPC President, Tracy Simmonds of Affinity Sales and EPC Board Member, Jack Schuler, SCDA Economic Dev. Director, and Clint Leach, SCDA Asst. Commissioner.
The 2021 EPC Leadership Class
The EPC proudly announces the 20 up-and-coming produce professionals chosen for its 2021 Leadership Class, a professional development experience for those with less than 10 years of experience in the industry. The program provides the opportunity for those selected to gain valuable knowledge from both classroom and field experience.
Schedule of Events
April 2020 - Food Safety and Modernization Act (FSMA) Seminar - COMPLETED.

May 11th - Visit to Philadelphia Wholesale Produce Market (PWPM) in Philadelphia, PA and Holt Cargo Systems at the Port of Gloucester, NJ.

June 8th - Classroom/Field Experience at Hionis Greenhouses in Whitehouse Station, NJ.

September 14th - Classroom/Field Experience at Rutgers' Snyder Research Farm in Pittstown, NJ.

Week of December 13th - Attend Seminar and Cocktail Reception at New York Produce Show. Certificates of Completion will be presented at the Show's Keynote Breakfast.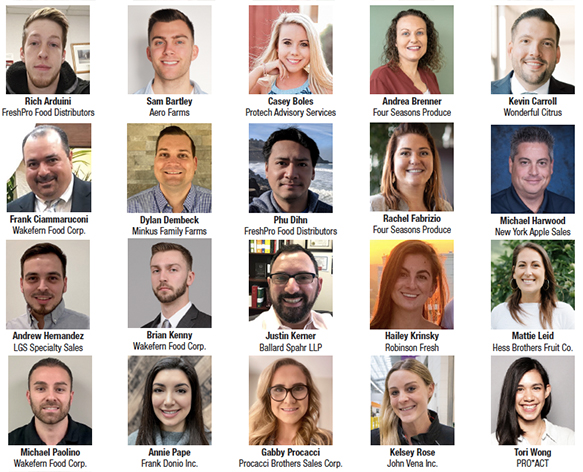 Thank you to everyone who supported this year's
Virtual Show & Conference.
Eastern Produce Council Hosts 6th Annual Joe DeLorenzo Family Apple Picking Event
The Eastern Produce Council hosted its 6th Annual Joe DeLorenzo Family Apple Picking Event on Saturday, October 3rd at Melick Family Farm in Oldwick, NJ. "It was a beautiful day to be together, celebrating Joe and our EPC families in attendance. Wearing masks was a necessity, but at least we could be gathering as a council, with our families, out on a farm", said EPC Director, Susan McAleavey Sarlund.
The event ran like it had in prior years for the most part. There was a "Grab and Go" Cider and Doughnut bag for breakfast, Hayrides to the top of the orchard still ran with less people being accommodated on each ride, and tents offering fresh grilled corn on the cob, hotdogs and popcorn, following the apple picking.
There were over 35 people from the DeLorenzo family in attendance including Joe's wife Goldie, three of his four sisters and 14 grandchildren, including his one-year old namesake, Joseph Michael DeLorenzo.
The event was named in honor of long-time board member and two-time president of the council, Joe DeLorenzo, who passed away in November 2014 and established by former EPC Executive Director, John McAleavey, who passed away in June of 2015.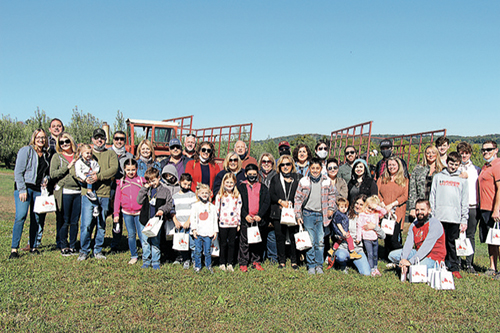 Click Here To View More Photos of this Event!
*Photos By The Produce News